Sadly people seem hardly aware of how often Queen Victoria visited Darmstadt. In the course of her long life she spent a total of 49 days in Darmstadt. Especially after the far too early death of her daughter Alice, Grand Duchess of Hesse and by Rhine Queen Victoria took on the task of replacing the lost mother of her bereaved Darmstadt grandchildren.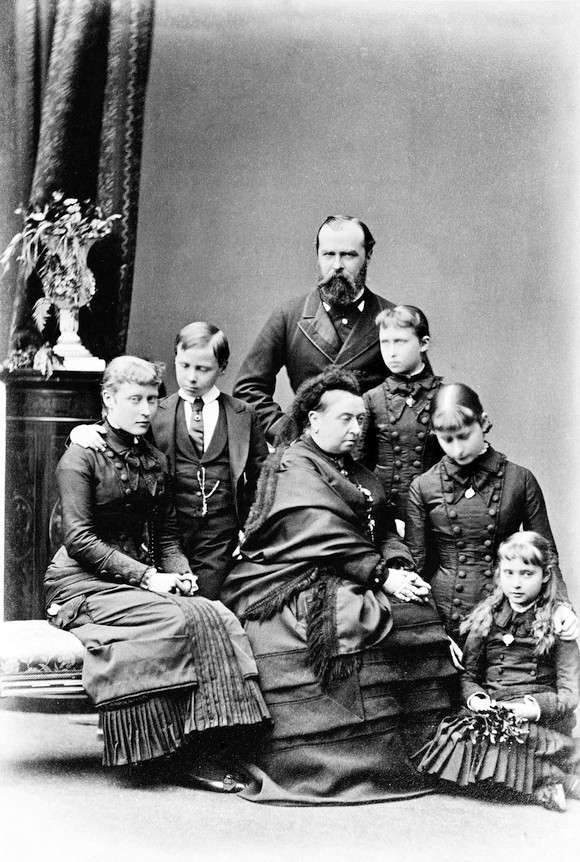 The first visit was a short one on 8th September 1863 when Queen Victoria stopped briefly at Darmstadt-Kranichstein to visit her daughter Alice on the return journey from Coburg to England. She also visited the Rosenhöhe and the town centre of Darmstadt and in the evening continued her journey back to England.
The next visit, again a short one, was on 10th August 1865. Queen Victoria was on her way from England to Coburg, and her daughter Alice had suggested to her mother that she could stop over in Kranichstein, even though she herself would be away on a vacation in Switzerland. Queen Victoria accepted the offer, arriving in the morning and in the evening she continued her journey to Coburg.
A few weeks later, on 6th September 1865, on the way back from Coburg to England, Queen Victoria passed once again through Darmstadt because the King of Prussia had wished to meet her. The meeting lasted for only half an hour and in the evening she continued her journey back to England.
The next visit was on 5th April 1876 for the occasion of the 13th birthday of Queen Victoria's granddaughter, Princess Victoria of Hesse and by Rhine. Victoria had spent several days in Baden-Baden (where she had purchased the villa of her deceased half-sister Feodora of Hohenlohe-Langenburg) and travelled by rail to Darmstadt in the morning and back to Baden-Baden the same evening.
On 30th March 1880 Queen Victoria made her first lengthier visit to Darmstadt to attend the confirmation ceremony of her two granddaughters Victoria and Elizabeth of Hesse and by Rhine on 31st March 1880. She spent two nights in Darmstadt's Old Castle and returned to her villa in Baden-Baden on 1st April 1880.
On 17th April 1884 Queen Victoria arrived in Darmstadt for her longest visit to attend the wedding of her granddaughter Victoria of Hesse and by Rhine with Prince Louis of Battenberg on 30th April. Victoria and Louis of Battenberg were later to become the grandparents of the late Duke of Edinburgh, husband of Queen Elizabeth II. Her visit lasted until 6th May when she returned to England.
The next visit to Darmstadt lasted from 23rd April to 1st May 1885 because of two events: the confirmation of Prince Ernst Ludwig of Hesse and by Rhine and the christening of Princess Alice of Battenberg (the mother of the late Duke of Edinburgh).
In April 1890 on the way back from a visit to Aix-les-Bains in France for her health she interrupted the return journey in Darmstadt, arriving on 23rd April 1890 and leaving again on 2nd May.
Two years later, from 26th April to 2nd May, she was once again in Darmstadt. Her son-in-law Grand Duke Ludwig IV had died just two weeks earlier on 13th March 1892 and his son Ernst Ludwig succeeded him as the new Grand Duke of Hesse and by Rhine. Queen Victoria stayed until 2nd May.
Queen Victoria's last visit to Darmstadt was in 1895. After a trip to the south of France she arrived in Darmstadt on 24th April 1895. On 26th April she made a trip to Kronberg to visit her daughter Victoria, the dowager Empress of Germany, in her residence Friedrichshof. On 29th April she departed from Darmstadt for the last time.
If I have counted correctly the Queen Victoria visited Darmstadt ten times. In total she spent 49 days and 40 nights there.